My Parallel Universe
I published my second Fine Arts book "My Parallel Universe" in 2015. It is a great personal gift and can be ordered directly from Blurb from this page. Discounts are frequently available on the order page.
ABOUT THE BOOK
This book is a beautiful visual symphony of my poetry and haikus teamed with abstract paintings. The paintings have been shown and sold in New England galleries over the last nine years. The book images are colorful and stimulating, printed as vivid reproductions. This book will jump off your coffee table!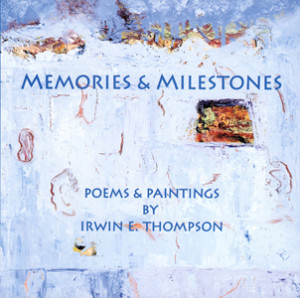 Memories & Milestones
Poems & Paintings by Irwin E. Thompson
About the Author
Dr. Thompson has published many articles in the medical literature during almost three decades as a member of the clinical faculty of Harvard Medical School and as medical director of Boston IVF prior to his retirement. During the last two decades, he has resurrected his interest in the creative arts and has published a number of poems, while also exhibiting his paintings in and around Boston, MA.
Born in Scotland, he grew up exploring the mountains and moors of his native land. This collection of poems and paintings is deeply personal: a selection based on his interests in themes of the origins of life on this planet, related natural phenomena and the ecological impact of Homo sapiens.
Cover painting: Memories & Milestones (2007) by Irwin E. Thompson, oil, mixed media on canvas
Memories & Milestones was featured in The Boston Globe. Read the article online.
Dear Irwin,
We just received your CD. Nicole and we have dropped everything we were doing to share this rare moment in your company. We were impressed by the quality of the colors (much better than the printed stuff) and of course your unique way of pictorial soul searching, illuminated by your wandering ever so original thoughts. Félicitations : you are indeed a true artist ! You have passed the wall that has kept us doodidlers from achieving even the smallest stature among your kind : those searching truely for light,colour and meaning – and finding it within the realm of their achievements!
With our very best wishes for a successful continuation, health, well earned fame, for Rusty above all and all the brave Scots."
As ever,
Walter